Wire Pulling Problems...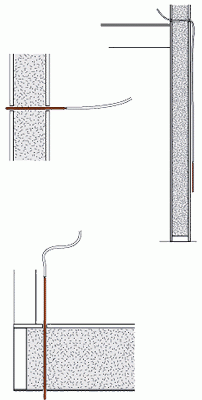 Telephone, cable television, and virtually all low-voltage technicians must frequently thread wiring through walls. Most often the walls are double walls, that is, the wire must first be threaded through an interior wall partition, then a second, or exterior wall partition. The space between the wall partitions is generally filled with insulation. This presents another problem, especially with wiring that has little stiffness or tensile strength. The wiring will bend inside the wall and cannot be forced through the space between the partitions. The same problem is encountered in floors with insulation below the subflooring and in ceilings with deep insulation.
How We Got Started...
In November of 1997, I became an outside installation and maintenance installer. My father-in-law visited us that Christmas and after the festivities I invited him to take a look at the tools of my new trade.
While going through various communications paraphernalia, I showed him a tool I was using for getting wire through walls. It was a rod with a hole in it. A retired phone employee had rigged it up. I laughed and said it was better than a coat hanger – but not much.
He left that day thinking, "There's got to be a better way to handle such a simple task".
A few months later the Thread-iT was born. He gave it to me and I loved it. Naturally, I told my fellow technicians and before I knew it the company handed me a 600-unit order.
With that kind of response, there was no choice but to set up a company to produce the Thread-iT.
Laurie Christenson
Testimonials
Bob Warner - Verizon Trainer:
"I wish I'd had this tool when I was a technician."
Paul Adams - AT&T Contractor through Tesinc:
"This tool improves my performance and my vocabulary!"
Daryl Hovis - Citizens Communications:
"I should have thought of this."
Dan Woods - Pac Bell:
"Why didn't I think of this?"
Leighton Petersen - Border States Electric Supply:
"This is the cats meow."
For more information contact:
steve@oregonthreadit.com

U.S. Patent #6318704